Federal government organizations have long been challenged to develop a performance improvement culture. Legislation such as the Clinton-era Government Performance Results Act (GPRA) and its Bush-era successor GPRA Modernization Act (GPRAMA), as well as several other pieces of legislation and executive-branch guidance, were intended to drive improved performance in delivering government services for the American public.
Unfortunately, most Federal organizations struggle to achieve consistent performance improvement results. Plenty of guidance exists about planning, executing, and measuring performance improvement initiatives. However, many organizations fail to achieve and sustain performance improvements.
Why is this so? To find an answer, we must widen the aperture a bit from our performance perspective.
Consider Performance in Multiple Contexts


While most people think of performance improvement in terms of strategic and/or operational success, organizational performance requires improvement in several different contexts. Here are six contexts that are key to overall organizational performance.
Each context is a contributor to overall organizational performance. Each requires focused attention to achieve continuous improvement in context, and across the organization.
Context

Expectation

Results
Strategic

Achieve goals and objectives that position the organization for success in the long term

Operations

Meet and exceed operational targets for product and/or service excellence

Capability

Leaders

Guide and coach individuals and teams to achieve assigned goals and performance targets

Teams

Work collaboratively and cooperatively toward a shared purpose and common goals

Individual

Work collaboratively and cooperatively toward a shared purpose and common goals

Talent
Workforce

Contribute to a culture of performance, curiosity, innovation, and agility
Recognizing Linkages Among Performance Contexts
Many organizations target performance improvement initiatives at either near-term operational excellence or long-term strategic goal achievement. Their approach to Improvement focuses most often on changes to policy, process, and technology aspects of its operations. Lower priority is placed on improvements in the talent and capability contexts of performance.

Whether operational excellence and strategic priorities are the goals, the organization requires the availability of high-quality talent (i.e., a well-designed workforce) that can perform effectively in the roles of Leader/Manager, Individual contributor, and Team member. Together, they make up the organization's performance capability.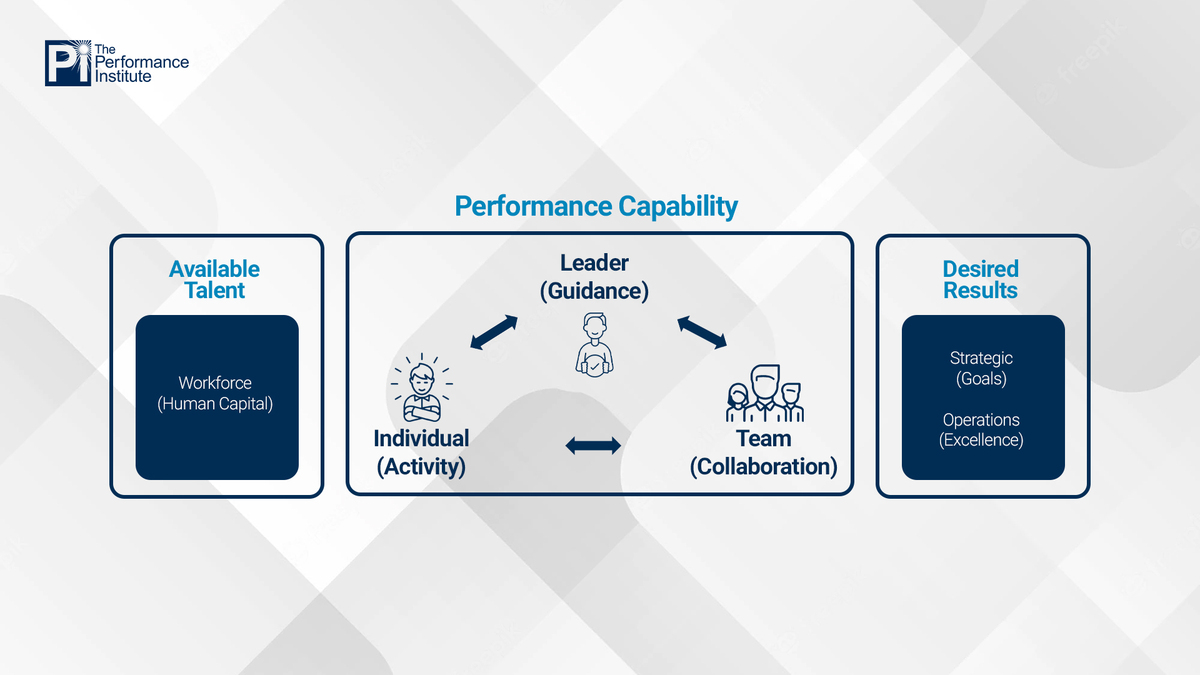 It is this performance capability that executes the activities and tasks necessary to improve operations and achieve strategic goals. Think of it as: Talent + Capability = Results. The takeaway is that improvements in the talent and capability performance contexts will increase the likelihood of strategic and operational achievement.
Focus Improvement on Talent and Capability
A focus on talent and capability provides the opportunity to break big problems into smaller, more actionable challenges. Each context can be addressed separately and independently, improving performance over time.
In a way, this approach represents a kind of continuous improvement/change management capacity where the organization builds a persistent commitment and capacity to accomplish strategic and operational change. The good news is that every small improvement to talent and capability has the potential to improve overall results.
Conclusion

Years ago, Franklin Covey wrote the popular book "The 7 Habits of Highly Effective People". While Rule #7 – "Sharpen the Saw" was directed at individuals, we can borrow the sentiment here. Organizations should remember that strategic goals and operations excellence is achieved only through the talent and capability of the organization. Time and effort spent sharpening the organizational "saw" (i.e., talent and capability) will increase the chances of success.
If you would like to know more about how to improve your organization's available talent and performance capability, The Performance Institute can help. These three courses, part of our Organizational Change Management portfolio, can help get you started:
Each course addresses desired behaviors and improvement tips necessary to improve talent and capability performance in critical aspects of a high-performing workplace. The next public offering of these courses is close at hand – September 26- 28, 2022.