Strategic planning requires a significant amount of data to perform efficiently. The majority of government agencies focus on data analytics, performance measurement, and perhaps even engagement from the members and community. However, other factors might influence your strategic plan and its ability to meet your goals.
1.
Risk Management
Every plan has its own risk, but when you are creating a long-term strategic plan, you need to determine exactly the risks to the department or the agency as a whole. Strategies may take many resources to replace, so if you initiate a high-risk project, replacing it in the future may create more damage to the organization than it's worth. Risk management is essential for that.
2.
Engagement
Initiatives take more than one person to implement, which is why engagement is very important for your strategic planning. Members that are part of the plan will build value, so you should consider whether engagement and teamwork are at a strong point or not. Low engagement can lead to low productivity.
3.
Performance Measurement
Each strategy must be analyzed properly during every cycle to understand its performance. It is essential to know what tools and strategies you will use in order to understand whether a process is a success or a failure.
4.
Diversity, Equity, and Inclusion
Things can often change over the years, as society evolves. For instance, more and more agencies are bringing in people with disabilities, to support inclusion efforts. To avoid discrimination and breaking the newer inclusion laws, organizations are also recommended to take in people of different ethnicities, orientations, genders, and more. Failing to consider this factor might prove a risk in itself.
5.
Data Analytics
Using data to extract insights is essential, especially during performance measurement. You need to see exactly what is going well, and what must be changed. Information is a very important asset.
6.
Program Evaluation and Evidence-Based Analysis
Every program should answer the 5 Ws before it is implemented: who, what, when, where, and why. If every question has a logical and factual answer, then the governmental organization may proceed to implement the strategy.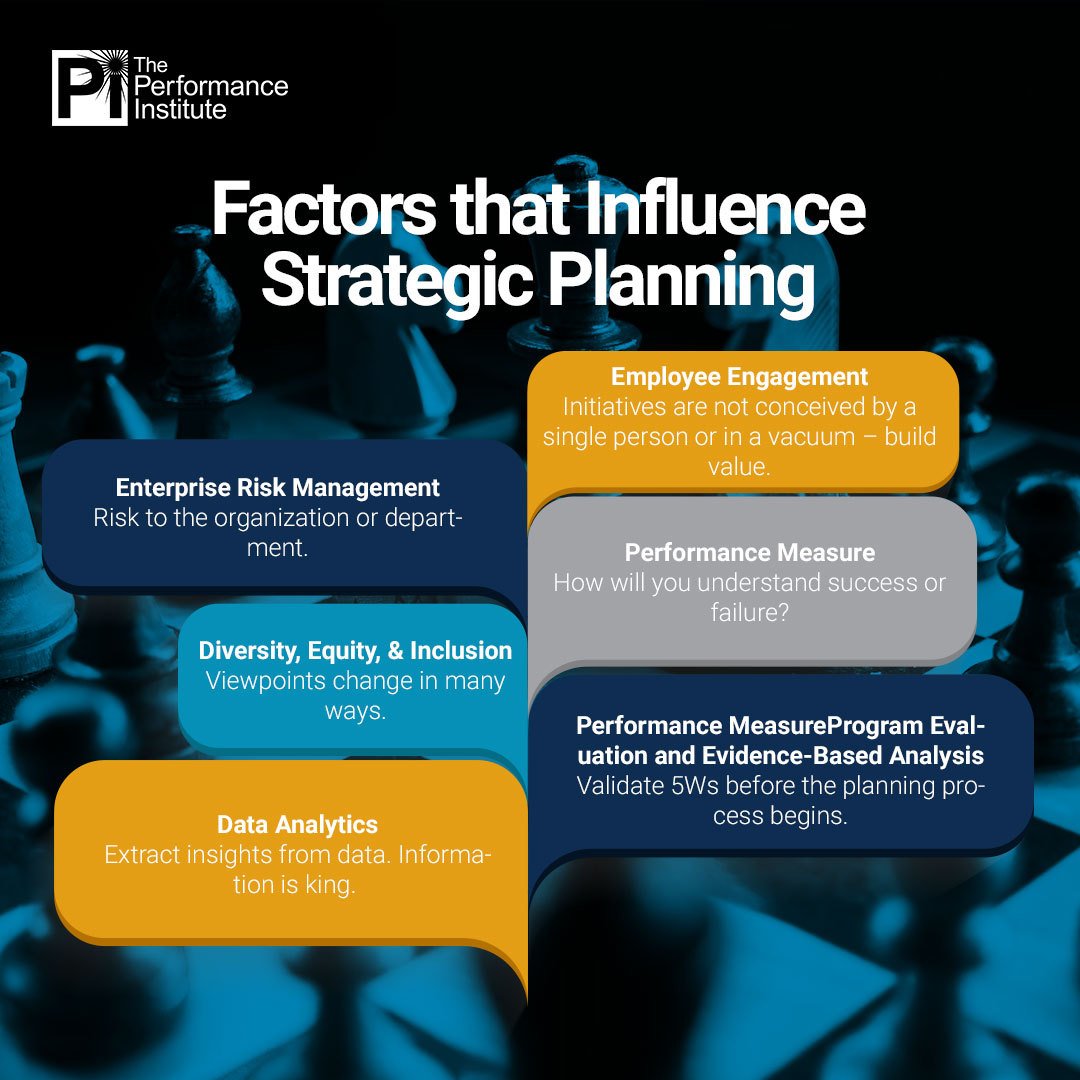 Join Our Strategic Planning Course!
If you want to learn more about strategic planning, you are welcome to join our Strategic Planning Training Program.
Our next courses will take place on October 17-18, 2022. and November 28-29, 2022. Please check here to see the other remaining dates for 2022.
Throughout the courses, we will discuss matters such as how to define a clear mission and goal, how to use performance measures for the best results, how to identify key strategic elements, and how to conduct organizational assessments.