Emerging Innovations and Data-Driven Strategies for Transforming Government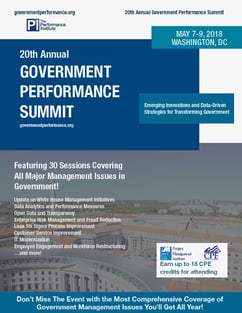 Featuring 30 sessions covering all major management issues in government!
Update on White House Management Initiatives
Data Analytics and Performance Measures
Open Data and Transparency
Enterprise Risk Management and Fraud Reduction
Lean Six Sigma Process Improvement
Customer Service Improvement
IT Modernization
Employee Engagement and Workforce Restructuring
…and more!
---
What is the Government Performance Summit?
Hosted annually since 1999 by a coalition of good-government groups, the Government Performance Summit is the annual performance management event for the federal government. The Summit is led by speakers from the upper echelons of the Executive and Legislative branches, as well as leading federal managers who offer their experience and advice to managers looking to improve the results earned by their programs and agencies – putting attendees in the room with the decision-makers on management policy from the Administration and Congress.
Who has attended past summits?
Political Appointees
Career Senior Executives
Program Managers
Procurement Officers
Human Capital Officers
Management Analysts
Budget Analysts
Strategic Planners
Branch Chiefs
Accountants
Auditors/OIG Personnel
Financial Analysts
Public Affairs Chiefs
Program Examiners
Contract Officers
Directors
Deputy Directors
---

Day 3 Optional Workshops
Workshop A: Developing and Using Performance Measures in Government
Curious how to use organizational goals and objectives to develop appropriate performance measures?
This workshop – a core component of the Certified Government Performance Manager certification – will help you work through those tough challenges.
You'll learn how to design effective performance measures to implement your government organization's goals and strategies, as well as restructure and align key indicators using the most up-to-date and proven methodologies. In addition, you'll learn how to implement and mange using data to execute and meet your organization's strategic goals and objectives.
Workshop B: Data Analytics Fundamentals for Government Managers
Government agencies collected more data sets in just the last five years than the entirety of data since the founding of the nation! With all that data, how can city and state government agencies put it all to use – to improve outcomes, reduce risk and enhance efficiency? This workshop helps answer this pressing question!
Data analytics involves the strategic collection, use, and analysis of government data sets to improve mission attainment. Predictive modeling involves data analytics to forecast outcomes and identify ways to change those outcomes for the better. You will emerge from this conference ready to use both data analytics and predictive modeling to improve your agency's performance.
Workshop C: Lean Six Sigma and Process Improvement for Government
Using its experience exclusively in city and state government settings, The Performance Institute has customized a comprehensive certification program in government process improvement using Lean Six Sigma and a variety of other process improvement methodologies showing great success in government.
Government agencies at all levels are generating significant benefits through Lean Six Sigma. Lean Six Sigma helps government identify critical quality issues, operational risk issues, and cost drivers – and equips government with methodologies to integrate principles of business, statistics, waste reduction, and engineering to achieve tangible quality and efficiency outcomes
Specifically designed for managers who have an interest in leading a process improvement initiative for their organization, this training course is the only Lean Six Sigma program specifically designed for application of Lean Six Sigma in a government setting.
Workshop D: Performance Budgeting and Resource Allocation
As budget reviews more and more rely on goals and measures to justify funding, it's critical to have a firm grasp. This workshop helps you utilize performance goals and measures to make the best case during budget reviews – and show how you can link resources to results.
You'll also learn the ten most critical steps when using Performance-Based Budgeting – helping you justify programs and avoid pitfalls, all while helping to calculate the true cost drivers in your program to pinpoint opportunities for savings and efficiencies.
Sponsored in part by: